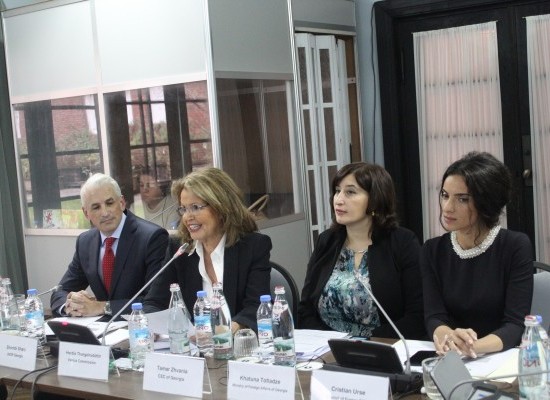 Var einn af fyrirlesurum á ráðstefnu um jafnrétti kynjanna á stjórnmálavettvangi sem haldin var í Tbilisi í Georgíu. Ræddi meðal annars um sérstakar, tímabundnar ráðstafanir til að flýta fyrir því að raunverulegt jafnrétti karla og kvenna náist enda teljist slíkt ekki mismunun eða hafi í för með sér að ójöfnum eða ólíkum skilyrðum sé viðhaldið. Talaði einnig við opnun ráðstefnunnar af hálfu Feneyjanefndar sem stóð að henni ásamt kjörstjórn Georgíu.
Ræddi m.a. staðalímyndir, hlut kvenna í fjölmiðlum o.fl.
On November 25-26, the Central Election Commission (CEC) of Georgia in close cooperation with Venice Commission of the Council of Europe hosts the regional conference on "Gender Equality in Electoral Processes". Tamar Zhvania, the CEC Chairperson, together with Khatuna Totladze, Deputy Minister of Foreign Affairs of Georgia, Cristian Urse, Head of the Council of Europe Office in Georgia, Herdis Thorgeirsdottir, Vice-President of the Venice Commission and Shombi Sharp, UNDP Deputy Resident Representative in Georgia made opening remarks at the conference.