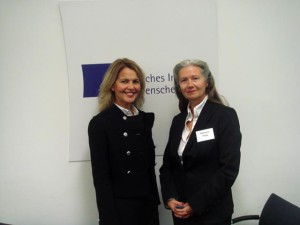 Var endurkjörin forseti Evrópusamtaka kvenlögfræðinga (EWLA) á árlegri ráðstefnu sem haldin var í Mannréttindastofnun Þýskalands í Berlín að þessu sinni.  Forseti getur setið hámark tvö kjörtímabil, eða tvö ár í senn. Hér er frétt RÚV af endurkjörinu, frétt Mbl.is og frétt á visir.is.
Á myndinni er ég með Ramona Pisal, forseta þýsku kvenlögmannasamtakanna, Deutcher Juristinnenbund (http://www.djb.de/) – en þær eru miklir bakhjarlar EWLA. Varaforseti minn og náinn samstarfsmaður hefur verið Beate Rudolf, professor við lagadeild Frei Universitet í Berlín – en hún lét af hvoru tveggja starfi sínu sem prófessor og sem varaforseti EWLA til að taka við forstjóra Mannréttindastofnunar Þýskalands.
Herdís Thorgeirsdottir was re-elected President of the European Women Lawyers' Association at its 11th annual congress held in Berlin. The venue this time was the German Human Rights Institute in Berlin. Its director, dr. Beate Rudolf is Vice President of EWLA.  The photo is of Herdís and Ramona Pisal, President of the German  Women Lawyers' Association who attended the event.