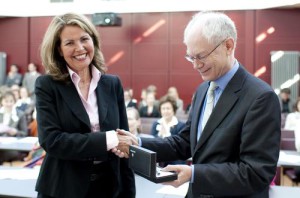 Árleg ráðstefna Evrópusamtaka kvenlögfræðinga var haldin í Brussel. Þema ráðstefnunnar var um lög og stjórnmál í samfélögum á krossgötum. Sjá umfjöllun hér.
Herman van Rompuy, forseti leiðtogaráðs Evrópusambandsins, var aðalræðumaður. (Sjá myndir sem eru birtar á heimasíðu hans hér) Sjá ræðu van Rompuy hér.
Hér er ræðan sem Herdís flutti við opnun ráðstefnunnar.
Welcoming address by Herdís Thorgeirsdóttir, President of the European Women Lawyers' Association at EWLA's 10th Anniversary Congress in Brussels on 3 June 2010 – Law as Politics in societies at crossroads –
President of the European Council, Mr Herman Van Rompuy- Madame Vice President of the European Parliament Diane Wallis,- Distinguished guests, – Colleagues, – Ladies and gentlemen,
Today we celebrate the 10th anniversary of the European Women Lawyers Association. EWLA was founded in Brussels at the turn of the millennium having in particular the aim of promoting women's equality and fundamental rights.
From its inception EWLA has called on EU Institutions to ensure through legislative action that sex discrimination does not lag behind protection against other types of discrimination; it has called for the balanced participation of women and men on the boards of listed companies. EWLA has in short emphasized the positive obligation imposed on the EC/EU institutions and organs as well as Member States to "actively promote gender equality.
"Women are more than 50% of the population and should be equally visible, influential and responsible as men in political and public life. Much progress has been accomplished in the area of European co-operation and legislation as regards de jure gender equality but reality lags behind. The objectives are clear but we lack results.
EWLA has emphasized that in order to ensure its future and cope with the challenges of globalization, that the social and economic goals on the EU agenda cannot be achieved unless effective measures are taken to improve women's situation in society at large. With the current economic crisis, the feminization of poverty has increased – two out of every three adults that are poor are women.
Economic considerations and limited resources determine the extent of social measures . . . but there are further shortcomings in the quest for a just society. We are not only faced with economic crises but also crises of confidence; an erosion of trust in financial, social and political institutions is spreading throughout societies like eczema.
The Times They Are a Changin[g ] to quote the Bob Dylan's lyric from the sixties – "the order is rapidly fadin[g]".
This is no understatement when coming from Iceland. After the whole banking system collapsed in October 2008, a volcanic eruption has in recent weeks threatened the existence of air travel all over Europe – and just three days ago a political earthquake shock Iceland with a comedy political party winning local elections in Reykjavík. The so-called Best Party took the political establishment by surprise in the Icelandic capital of Reykjavík, securing 6 out of 15 seats in the new city council. One of the issues this party emphasized was a drug-free parliament in 2020 – I have not heard of one MP who is really addicted to drugs – but having this slogan and winning the elections shows that people are ready for change – any kind of change.
The prime minister acknowledged that this could spell the end of the traditional four-party-system in Iceland. Recent opinion polls show that political leaders are looked upon with distrust and contempt.
The situation in Iceland may be quite extreme but we know that unrest is lurking underneath widely in Europe. The Euro has hit a four year low against the dollar; unemployment in the Eurozone has hit a fresh height and across the 27 EU countries there are now 23 million people unemployed. Some say that the key test for market economies, perhaps even for democracies, is how they master growing inequalities triggered by ungoverned globalization and aggravated by the crisis. Womens' rights around the world are an important indicator to understand global well-being.
Law as politics – in societies at crossroads was the theme chosen for this congress many months ago. We intended to pose a question and designate the need for greater attention to the interplay between these forces – in particular fundamental rights and the market economies and the political atmosphere surrounding these.
How secure are the foundations of modern Europe? Where exactly does our strength to confront the present situation lie.
The sad thing is that the institutions that are supposed to inspire the most trust; the pillars of most societies – the press, political leadership, the corporations are subject to mistrust by the public in many if not most states. We need a dialogue on restoring trust – everywhere – without trust decline is inevitable.
I hereby open EWLAs 10th anniversary congress with the sincere hope that we, European Women Lawyers' can help contribute to this dialogue of restoring trust; so that right will make might (to quote Abraham Lincoln) – that is exactly what lies at the core of focusing on law as politics.
Annar aðalræðumaður á ráðstefnunni var Diana Wallis, varaforseti Evrópusambandsþingsins (sjá mynd hér fyrir neðan).